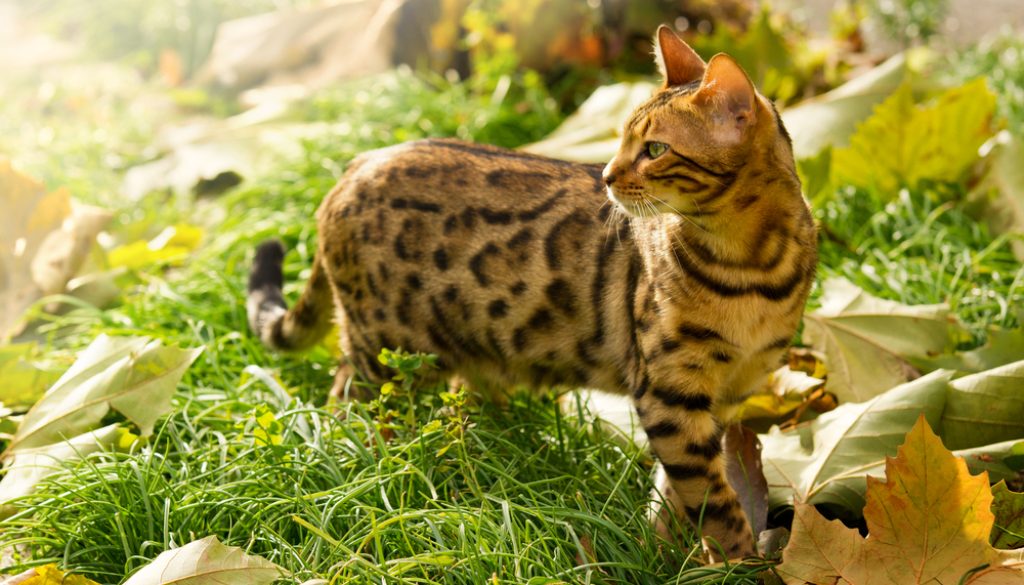 With a striking appearance and distinctive personality, Bengal mixes have an enduring popularity among cat lovers. 
They are one of the most unique feline breeds, a gorgeous blend of various domestic breeds and Asian leopard cats that were introduced in the 20th century (the first documented one dates to 1963 in California).
"Bengal" derives from the shared Asian leopard cat ancestry, but Bengals are commonly mixed with everything from a tabby to a Siamese.
And while they are blessed with an eye-catching appearance, it is sometimes difficult to tell if a pet actually is a Bengal mix. Here are a few of the ways to figure it out, apart from having a pet get a feline DNA test.
Coat of Many Colors
A Bengal mix's coat is what really separates it from the rest of the feline pack. 
The most popular coat color for Bengals and Bengal mixes is classic brown, but they can also be silver, black, red, smoke, snow, blue and more. 
A telltale indicator of a Bengal or a mix is a coat with either rosettes or marble patterns. They will also typically have spots on their stomachs, but not all cats with marbled fur are Bengal mixes. Purebred Bengals will definitely have these patterns, however, and will always have some form of spotting.
Rosettes, spots that vary in size but appear in just one color on a coat, are only seen in Bengals, according to the International Cat Association.
Bengal mixes often take on the shiny coats and sheen of their purebred ancestors. Those with brown coats usually have stripes and spots of deeper brown shades. Bengal mixes with silver coats will have dramatic dark markings serving as a visual contrast.
Snow-colored coats are very rare and have spots that are a range of brown colors, from light or tan to chocolate. 
Size Matters
Most Bengal mixes will sport a body structure considered athletic or even muscular, with a head that is broad with visibly rounded contours, similar to their wild ancestors. They are comparatively medium or large in build, strong and a bit stocky, and weigh between 8 to 15 pounds, with males sometimes hitting 15 to 20 pounds.  
The build is influenced by what the Bengal is mixed with. While Bengal mixes are commonly slim because of their energy, a Bengal and Egyptian Mau mix is smaller than Bengals mixed with tabbies or shorthairs, but all are considered lean.
'M' is for Markings on the Forehead
Bengals have what appear to be an "m" shape marking on their foreheads, which are actually a group of short stripes. That trait is generally passed down to Bengal mixes, as is an ear marking that looks similar to a thumbprint. 
The same markings are found on tabby cats, so if a cat just as the ear thumbprint or the "m" marking it may not be a Bengal mix. If they have those two markings and a few others associated with Bengals, they are more likely to be a mix.
The Personality Factor
Bengal mixes are among the most energetic and playful feline breeds. They demand attention, like a good amount of freedom to explore or wander and would much rather be constantly active than sit and cuddle with their owners. But they are usually great companions for children because of their gentleness and patience.
They are independent but social and curious about dogs and other animals. They are typically friendly with other cats and people and are known for being extremely expressive, especially through loud noises that are unlike a traditional meow. 
Bengal mixes are also highly intelligent and adaptable. Some are even trained to walk on a leash.\
Gymnasts
The long and muscular bodies of most Bengal mixes mean they have some serious athletic skills and are awe-inspiringly agile. They jump and climb higher than most breeds — and that is an understatement. Bengal mixes often leave owners wondering how they actually got up to some of their exploratory perches.
Bengal mixes are impressive athletes outside of the home as well. They enjoy being around or in water and are strong swimmers. Chances are if they hear any type of water, they will head over to check it out and play with it.