Travelling with a dog such as a Dobermann is not always fun. Some dogs love nothing more than an adventure in a car whereas other dogs need a little bit more persuading and training. All types of dogs, especially puppies can suffer from carsickness. If you are planning a holiday or want to take your Dobermann with you, the first stage is to make travelling as natural and normal as possible.
The Doberman's first trip
Usually, the first time a Doberman travels is when he/she is a puppy – from breeder to new home. This experience can be very scary for your new pup. The best time to make this trip is early in the morning. This way your Doberman will be alert, and fresh and have more time to let the trip sink in. It's a good idea to make sure your Doberman travels on an empty stomach. Like most dogs, after the first long car journey, you may find the contents of the dog's stomach over your leather seats! Dogs can get carsickness on route home.
Travelling for the first time will feel unnatural to your Doberman. It's important to make this experience as pleasant and comfortable as possible. When travelling with a puppy for the first time, find another human to sit in the back seat with the puppy for comfort. As well as being sick, your puppy may also urinate. Prepare for such things so bring along an old towel or blanket and maybe a change of clothes for yourself.
Sometimes the breeder may help with the transition by providing a familiar toy or object that the Doberman likes and feels comfortable with. Dobermans have a strong scent of smell, and objects that carry scents of familiarity can help with calmness. Familiar objects can also help transition you're new Doberman into his new home to ease the loneliness.
If the trip home is longer than 30 minutes, take a break once in a while. Let your puppy roam and sniff around as long as there aren't other dogs. Other dogs may carry diseases that your Doberman isn't vaccinated for yet. If you are lucky, your dog will go to the toilet. Stopping for a break once in a while will turn a possible negative experience into a positive one. If you can fit in some time to play and bond with your new family member, do so.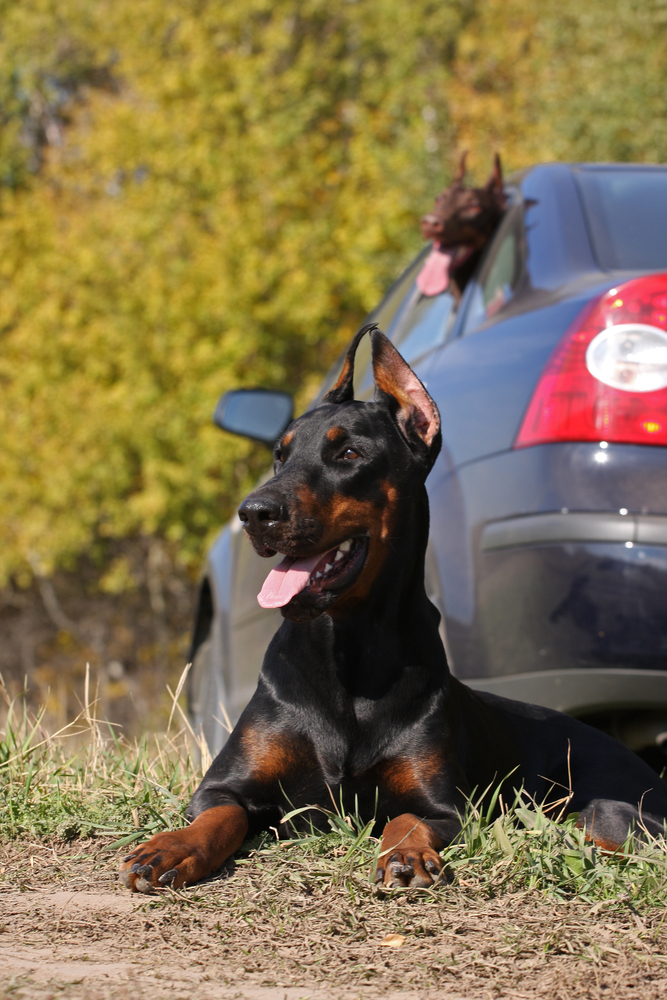 Do Dobermann get carsick?
Carsickness prevention is better than a cure. Taking breaks from your trip and walking for a bit with your Doberman will prevent the dreaded carsickness. Most dogs have no problem with travelling, but some suffer from carsickness.
Nausea and vomiting are very common to Doberman puppies on their first journey to their new home. With experience, trips become easier to manage. Fear and the motion of starting and stopping the car play a big part in carsickness. If the dog is facing lots of different directions, this may also be the cause of carsickness. It's rare that carsickness lasts forever in Dobermans, but for some unlucky Dobermans, suffering from carsickness doesn't go away.
Vets may be able to help with carsickness, and some will offer travel sickness medication. If possible familiarise your Doberman with lots of small trips, before a long trip. Short journeys help with building up your Doberman's tolerance. Remember to make sure your Doberman hasn't eaten before travelling. Once arrived at the destination, take your Doberman for a walk and reward it with a treat such as a snack or a favourite toy.
Never punish your Dobermanif it cries or vomits or urinates during a journey; this just makes the Doberman more nervous. Never drag your Doberman into the car on its lead, instead use positive reinforcement. One way to prevent your Doberman from suffering carsickness is to maintain a good speed with no excessive breaking, strong acceleration or sharp cornering.
Taking your Dobermann on holiday
When planning a holiday you will need to consider whether your Doberman will go with you. Some people send their Dobermant into a kennel or leave with friends/family. Holidays and dog management involve planning in advance. If you are planning to take your dog on holiday with you, check that the Doberman is welcome and read the pet policies.
If you are taking your Doberman abroad, certain vaccinations may be needed as well as a dog passport and health certificate. This process may take a few weeks before departure. Here are the rules from the UK. Also, consider how your Doberman will get back. Some dogs have to go into quarantine under certain regulations. Vets are able to give more information on this.
Taking your Doberman on holiday is very possible but you need to take it seriously. Will your dog enjoy the holiday as well? Dobermans may suffer in hotter temperatures and will need time to adapt. Travelling from A to B can be an unpleasant experience for Dobermans. Try to take breaks regularly.
Fresh air, a good run and keeping your Doberman hydrated is key to making this experience pleasant. NEVER leave your dog alone in a hot car with all windows closed. The car's temperature can quickly heat up, and many dogs have died this way. If you cannot avoid leaving your dog in the car, park in the shade and leave a window slightly open for some fresh air. Check your dog regularly and be quick.
Always leave plenty of time when travelling with a Doberman and remember to book everything in advance, including vaccinations.
Many people hire dog sitters. It's important to first let your dog be acquainted with the person so there are no bad vibes. Make sure the dog sitter is able to trace your dog should it run away or get lost when you're on holiday. Also, make sure the dog sitter has enough information for every scenario.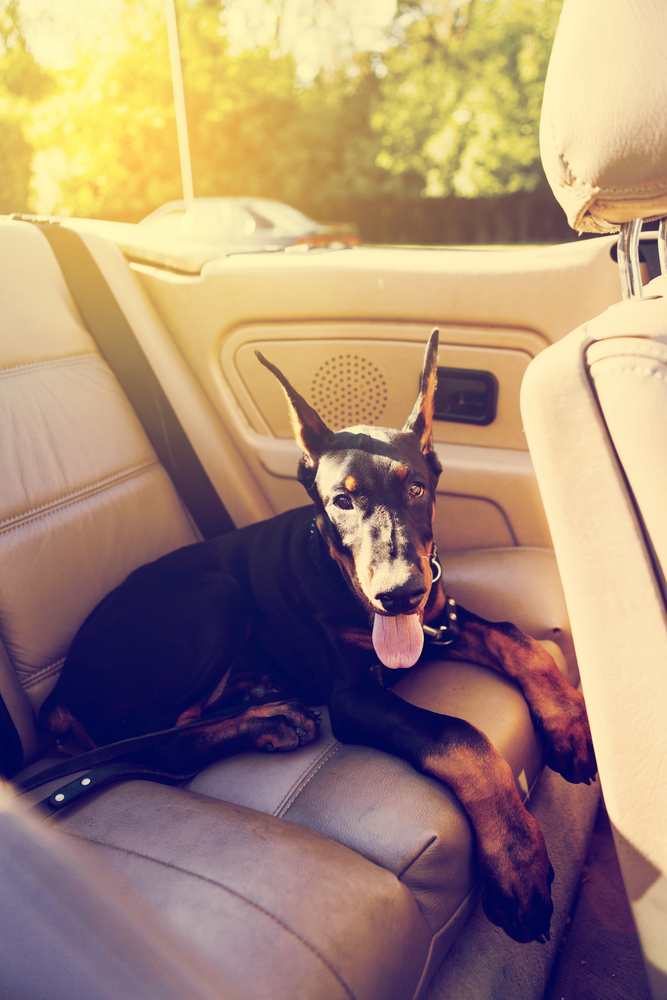 Moving to a new home or office with a Doberman
Dobermans are usually more attached to the humans they live with than to the house or office they are leaving or moving into. Moving to a new residence is usually not a problem, but it's important to familiarise your Doberman with the home and surroundings before permanently moving in. This will reduce the chances of your dog getting confused or lost during the stressful transition. On moving day, it's a good idea to leave the Doberman with friends or family as moving day is stressful enough without a confused and possibly nervous Doberman. When your move is complete you can pick your dog up and introduce your best friend to the new home.
When moving to a new place, register with a vet and keep the Doberman on a lead for the first few weeks. Like most dogs, a Doberman is more likely to get lost if it doesn't know the neighbourhood. Also, remember to update the dog's tag with your new address and number along with the update of the microchip if your dog has one.