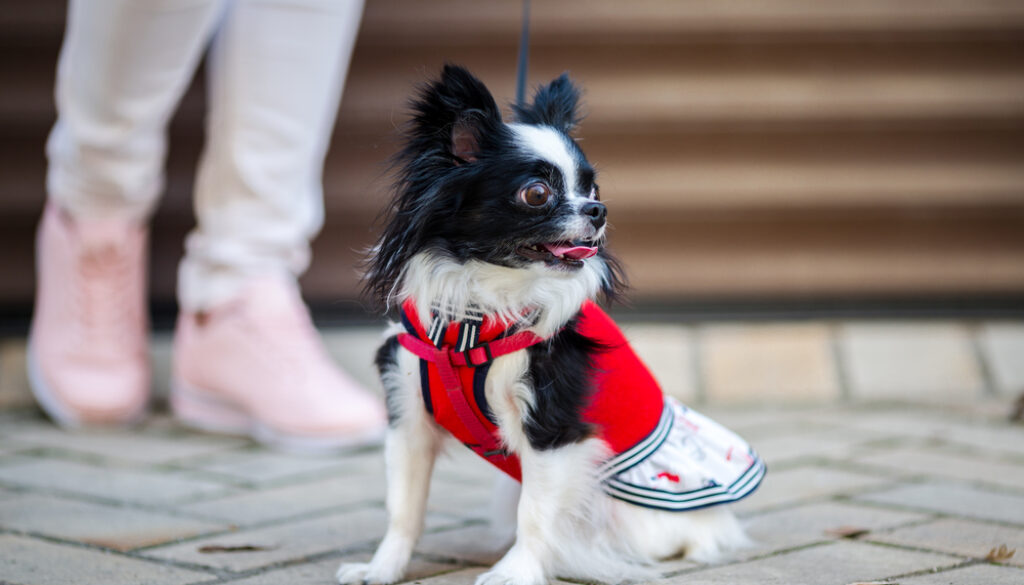 Chihuahuas are a great pet for the working person, but how well do they thrive being couped up at home and what kind of lifestyles can they adapt to? Can you work full-time with a Chihuahua?
You can work full time and still give your Chihuahua a good quality of life. Make sure that you give your Chihuahua plenty of enrichment while you're gone and provide adequate attention whenever you're back home.
Working full-time and owning a Chihuahua is doable and gives you something to look forward to when you head home. The rest of this article will discuss whether you can really leave your Chihuahua home while you work full time.
Can Chihuahuas Stay at Home While You Work?
In short, Chihuahuas are able to stay at home and still be happy while you're working, but there are some detriments to the Chihuahua's personality that can make this challenging.
On the plus side, Chihuahuas have very little energy requirements, making them perfect both for small space living like in an apartment and being less rambunctious while you're out at the workplace.
Unlike other high-energy dogs like the Labrador or Poodle, the Chihuahua isn't as likely to tear up your apartment when they get anxious.
With that being said, Chihuahuas do suffer from separation anxiety, so it's important to provide stimulation and take active steps to reduce behaviours associated with this condition so that your Chihuahua isn't stressed out while you're away at work.
Puppies Can't be Left Alone
Puppies require a lot of attention, socializing, and play to be healthy and grow up as well-mannered. They should not be left alone while you're at work. They may also bark at everyone who passes the house and every little noise. Chihuahua's can become very sensitive guard dogs.
Their bladders just can't cope with long periods of absence—if they even understand the concept of potty training at all.
Make sure you or a trusted friend is able to spend most of the day with your puppy Chihuahua. With that being noted, there are several methods to reducing separation anxiety in your Chihuahua while you work full time.
Reducing Separation Anxiety While You're at Work
It's important to note that crating your dog while you're away at work isn't appropriate. It's too long for your dog to hold their bladder and makes for very poor quality of life.
Crating your dog at night, on the other hand, is a much better way to reduce stress, establish a proper sleeping habit in a safe space, and build positive associations with the crate for whenever you need to travel. You'll want to abide by these guidelines to reduce separation anxiety while you're at work.
Change Your Signals
Triggers like putting on your shoes or opening and closing the door can trigger separation anxiety, and a helpful way to start breaking the cycle is to disassociate these behaviours from going away.
You can also make the going away experience more positive by giving your dog a treat or toy as you leave. This changes the negative associations of leaving, to be more positive.
Don't Make a Big Deal Out of It
Unfortunately, the lengthy goodbyes when you leave in the morning and overexcited hellos when you return have a detrimental effect on your Chihuahua and can reinforce feelings of separation anxiety. Heightening your dog's emotional state around departure and arrival exacerbates triggers of separation anxiety and can worsen the behaviour.
Exercise Your Dog
If you work full time, it's a good idea to give your dog some exercise both before and after work to meet their needs. Playing before you go can wear your dog out, making them more inclined to relax when you head out for work rather than expending all their energy by destroying your furniture.
Creating a structure is important for your dog, and establishing routine playtimes and chill times makes for a happier dog in the long run.
Severe Anxiety Remedies
Depending on how long the behaviour has been ongoing and unwittingly reinforced, you might need to do some dedicated training to reduce anxiety. This involves having your dog sit in a room by themselves for a progressively longer period of time. Often, this should be done under the guidance of a certified trainer.
Final Thoughts
Chihuahuas are great dogs for staying at home while you work as long as you give them plenty of attention when you get home. Having a trusted friend or neighbour pop in to play with them every now and again or having a second dog such as a Labrador can also stave off boredom and help your Chihuahuas manage to be at home while you work full time.