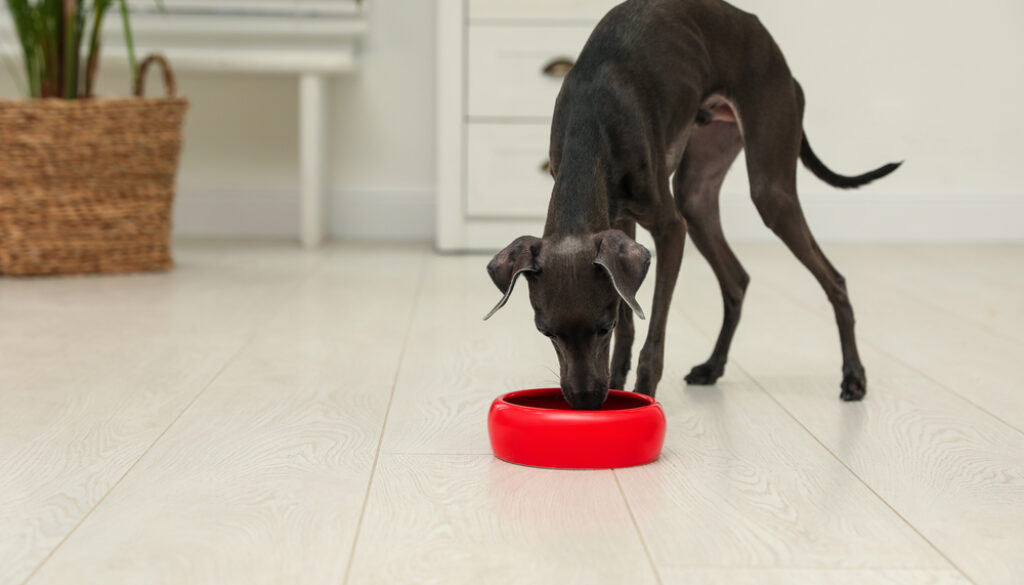 Just like any other breed, Italian greyhounds can get fat. Most commonly due to overeating, not exercising enough or a combination of both. This can lead to a suite of health issues but is completely preventable and reversible. Italian Greyhounds are known to be very active and have slim physiques. So when a greyhound does get fat, there's no hiding it.
Conditions such as diabetes, hypothyroidism, and Cushing's disease can also lead to obesity in Italian greyhounds. In this case, medical advice should be sought.
In this article, we'll alert you to the major health repercussions of obesity in Italian greyhounds. We will give you some pointers on how to prevent your Italian greyhound from putting on too many pounds.
A brief history of the Italian Greyhound
The Italian Greyhound is a very established breed of dog. With indications of their presence on archaeological digs in Egypt as well as images of them in 2000-year-old drawings and objects.
No one knows the real purpose of the miniature Greyhound whether they were hunting or companion dogs. But throughout the centuries, the rich and famous people of the world have favoured them. And this doesn't surprise me. I believe that this breed of dog is the most stunning, out of all the breeds.
Many Italian Greyhounds were immortalised, along with their owners, in portraits by famous artists such as Giotto di Bondone. This movement is where the name 'Italian Greyhound' originated from.
In the 1600s the Italian Greyhound finally arrived in England. The Royal families kept them as loyal companions. The most famous monarch who kept an Italian Greyhound was Queen Victoria, whose reign changed the world for the better.
They say time is non-linear. Today the Italian Greyhound is enjoying a second renaissance. In modern times, this elegant dog is a great companion to take along to work with you.
What Are the Consequences of Obesity in Italian Greyhounds?
Being overweight is not healthy for any species, but for Italian greyhounds, obesity can lead to health issues including skin problems, joint issues, decreased lifespan, and difficulty breathing.
Increased folds in the skin can trap oils that allow skin diseases to fester. Italian greyhounds should never have rolls in their coats. Italian greyhounds should appear sleek and muscular – not roly-poly.
Extra weight can cause stress on joints, tendons, and cartilage connections. And accelerates the worsening of pre-existing conditions like arthritis and hip dysplasia. Obesity makes Italian greyhounds more prone to life-threatening diseases such as cancer and heart disease. It can also cause digestive problems, and even make anaesthetising difficult for simple procedures such as teeth cleaning.
Fat buildup in the neck and face can negatively impact breathing which impedes the quality of sleep contributing to less energy and low functionality.
How Can I Prevent My Italian Greyhound from Gaining Too Much Weight?
Since diet is the biggest factor when it comes to maintaining a healthy weight for Italian greyhounds, make sure you know how much to feed your dog so that he/she isn't eating too much. Most Italian greyhounds only require 1/3 cup of food once or twice a day. Any more and you'll start to see the above signs of obesity.
Train your pup to eat at certain times of the day. Only leave their food out for a small period. Allowing food to be available all day encourages unwanted snacking. Make sure the food bowls of other pets is out of reach for your Italian greyhound. Especially cats whose food is usually high in fat.
Keep your eyes on your Italian Greyhound's eating habits. Limit the number of food treats with which you reward your Italian greyhound. Never feed them scraps from your kitchen table which can be high in unnecessary calories.
If diet control is not the issue and your Italian greyhound is still overweight, contact your vet because your pup may be suffering from a more serious condition. These can include illnesses such as diabetes, Cushing's disease, or hypothyroidism in which obesity is a symptom.
Can I Put My Italian Greyhound On A Diet?
Italian Greyhounds should eat between 60-140 grams of high protein food per day supplemented with vegetables (1/3 cup of food twice a day), you can split this up between 1 or 2 meals per day.
Having this amount of food with the correct amount of exercise each day, shouldn't make your Italian greyhounds fat.
How Much Exercise Does An Italian Greyhound Need?
An average Italian Greyhound need around two hours of exercise each day. They are active dogs that love nothing more than running and playing, especially chasing balls! Afterwards, they will enjoy napping up next to you for a cuddle.
Exercise is extremely important in keeping your Italian Greyhound fit and healthy. Without exercise, your Italian Greyhound will surely put on extra weight. Should you notice your Greyhound getting a little chubby, increasing exercise wouldn't be a bad idea.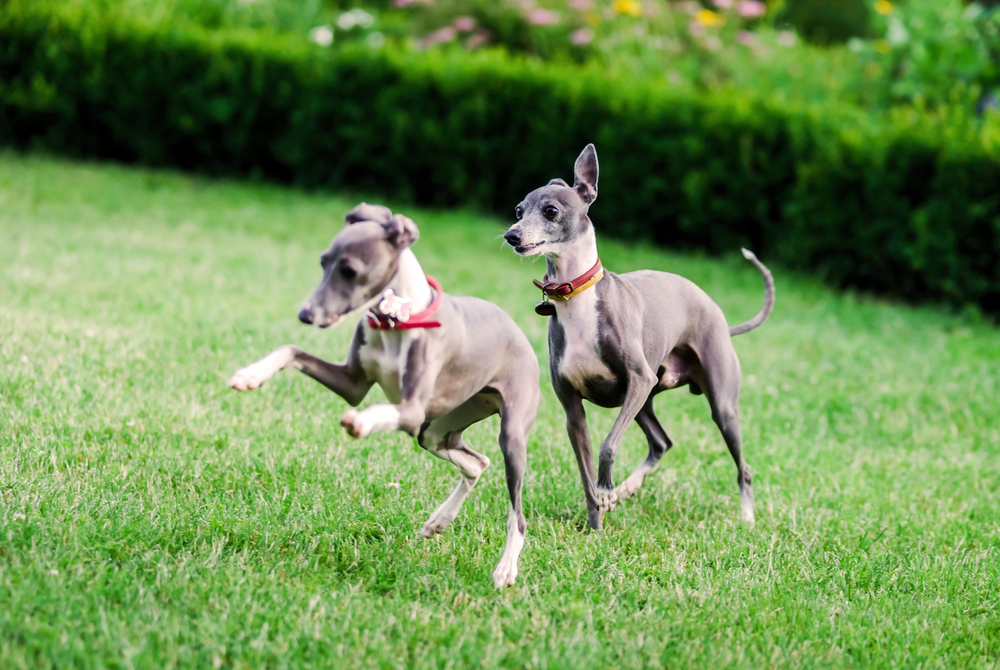 What Toys Will An Italian Greyhound Like?
Italian greyhounds love anything they can run after. Including squeaky balls, stuffed toy animals and rope toys.
Italian Greyhounds love stuffed rabbit toys. Should that stuffed fluffy toy squeak and move… your Italian greyhound will surely obliterate it.
A Healthy Italian Greyhound 
Armed with the knowledge of keeping your Italian greyhound a healthy weight, just remember to be strict about portion control. Don't let stray table scraps or other pet food be a temptation. Also, make sure your Italian Greyhound is getting the exercise it needs. You want to keep your pup from feeling lethargic and achy so that he/she can live his/her best life!
Should you still be having issues with your dog's weight, or if your Italian Greyhound is acting out of character… Contact a licensed veterinarian for medical advice.
The Italian Greyhound is an excellent workplace pet. We have listed this dog as one of our Top 5 office dogs.