Are Italian greyhounds good for first-time owners? YES! If you can care for their needs and have a lifestyle that matches the "Iggy" personality.
Should an Italian Greyhound Always Have Company?
Ideally. the Italian greyhound should always have company. This breed of dog thrives on companionship. Whether that's at home with a responsible family or a dog-friendly workplace. Italian Greyhounds love people and other similar dog breeds. Many people consider adopting two greyhounds at the same time.
When people are absent, they suffer from loneliness and anxiety. Similar to a Greyhound, the Italian Greyhound can tend to whine more than other breeds. So don't leave them alone for long periods of time.
Greyhounds And Italian Greyhounds Are Not The Same Dogs!
An Italian Greyhound is NOT a greyhound, they may look similar but they are very different and require a different type of commitment. Italian Greyhounds are a challenge, but everything can be overcome with time. Once the Italian Greyhound is well-trained and integrated into your everyday life. You will have the most perfect companion. Here are a few different comparatives between the Greyhound and the Italian Greyhound;
Size 
Italian Greyhounds are smaller.. Way smaller! They usually weigh in around 3-5KG, whereas a greyhound is much larger and weighs between 26–40KG.
Sleeping
Italian greyhounds love a snuggle more than Greyhounds do. If you have a very stressful day at work, this dog will comfort you. They are also one of the clingiest breeds of dogs.
Energy
Greyhounds are extreme, not only are they the fastest dogs on the planet, they also love a nap for most of the day and are pretty chilled out. Italian Greyhounds love a good run, any time of the day. They can switch from chilling out to running out. If you can make the Italian Greyhound's environment comfortable, you may be able to persuade them to stay put a little longer.
Toilet
Italian Greyhounds are harder to toilet train than Greyhounds, and most other dogs. If you are looking to adopt an Italian Greyhound, invest in some laminate flooring.
Home Alone
Greyhounds sometimes cry when left alone but not as much as Italian Greyhounds. IG's usually have bad separation anxiety.
Training
Compared to Greyhounds, Italian Greyhounds need more consistency when training. If you love structure, the Italian Greyhound is perfect for you.
Friends
Greyhounds are less social than Italian Greyhounds. Greyhound action their stronger hunting instinct. Whereas Italian Greyhounds can control it better, they are more friendly dogs. Italian Greyhounds are generally easier to keep in pairs because they can keep each other company should you be occupied.
Weather
Greyhounds will go out in rain or snow, they just love it. Italian Greyhounds, on the other hand, are more particular… Good luck taking an Italian greyhound for a walk or running in the snow. You would have to seriously drag them out (I'm not suggesting you drag them.)
If your greyhound doesn't go out for a few days due to bad weather, keep an eye on the diet as the last thing you want is a fat Italian Greyhound!
Jumping
Greyhounds don't see the point in jumping unless it's maybe for food or a squirrel. Italian Greyhounds will jump everywhere, including on furniture. As the Italian Greyhound gets older, there is less energy. especially the younger they are. Many Italian Greyhounds break their legs because of this, also young children can damage this breed of dog if they are not careful when playing.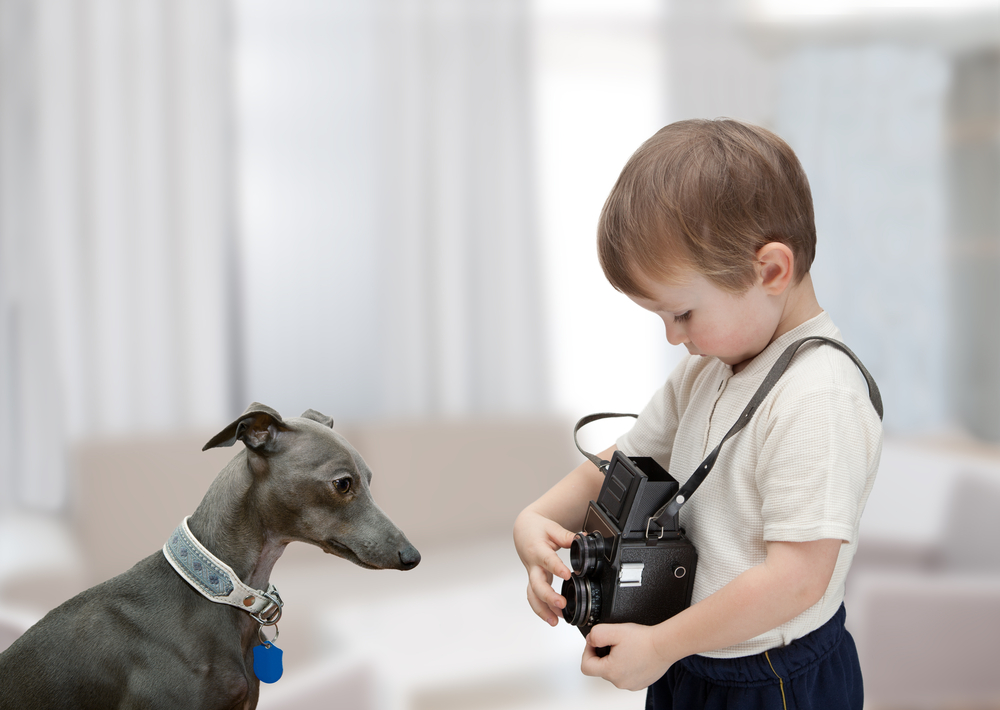 Who Will The Italian Greyhound Live With?
The Italian greyhound is an affectionate dog that is friendly with children, strangers, colleagues, clients and other dogs… Especially dogs of a similar breed. That said, the Iggy is a sighthound breed and their ancestors would hunt; which means a high prey drive and a natural love for chasing, so a home or office with small pets like mice, rats, hamsters, etc. is not ideal.
Do Italian Greyhounds Feel The Cold?
Living in a cold climate or a workplace with constant air conditioning does not rule out owning an Italian greyhound. But it does require a bigger investment in outdoor wear to help this petite hound maintain a healthy body temperature. Their skin is relatively thin and this athletic breed has little body fat. Great for cooling down after a run, but not so good at warming up after a run in the snow!
How Active Is The Workplace?
Although small, the Italian greyhound is energetic, and requires a buzzing atmosphere with regular play, and exercise to be happy. It's not healthy for an Italian Greyhound to be spending huge amounts of time in a sterile and boring environment.
A sedentary lifestyle spells boredom for this working breed. Like most dogs, boredom leads to destructive behaviour (as well as an unhappy dog!)
Should Training My Italian Greyhound be a Priority?
Training is a necessity for any dog but particularly for those bred to work. Training keeps working pups mentally stimulated. Any family and workplace considering an Italian greyhound, for instance, should be fully committed to a minimum of basic training classes and consistent reinforcement of commands.
Should your Italian Greyhound puppy be engaging with lots of colleagues in the workplace, make sure you are micromanaging the first few encounters, so everybody is aware of how to behave. Bad office behaviour can become contagious.
Are You Committed To Your Italian Greyhounds Ongoing Dental Care?
The Italian Greyhound is prone to dental disease. To avoid tooth loss and severe infection, and Iggy family must be committed to regular toothbrushing and annual veterinary dental cleanings. Also, dental treats are a great idea.
What Kind of Dog Are You Looking For?
One of the most significant deciding factors when adopting any breed is whether the breed of dog is suited for the family or workplace. For example, a family with young children looking for a playmate to roughhouse with should never consider bringing home an IG due to their petite bodies and thin legs. This family would be better suited to a bigger breed such as a Labrador. Conversely, a family with older children who understand and respect dogs may be the perfect home.
What Personality Type Is The Italian Greyhounds?
The Italian greyhound tends towards nervousness and neuroses, requiring a balanced approach to care. This tendency means that a family that always picks up their smaller dog and "babies" them is also not ideal for an Iggy.
So, are Italian greyhounds good for first-time owners? Yes, if…
Someone in the family is at home regularly or works in a dog-friendly workplace.
The household is an active one and everybody loves affection and an extra shadow following them all day and every day.
There are no young children or small animals in the house. Children may break the Italian Greyhound's bones and the Greyhound may break the small animals.
Structured, consistent, and dedicated training is a priority  
Italian Greyhounds are one of our favourite breeds of dog for the office due to their Elegancy, gracefulness and kind-hearted. They are truly a man's best friend. The Italian greyhound is very established. The breed is over 2,000 years old. Italian Greyhounds refuse to be ignored and love to be held! They require extra care in cold weather, so if you are considering one of these fantastic breeds, make sure your office and home are cosy enough… And obviously, you need a lot of time.