Dogs are kind, loving, and compassionate – they forgive everything and never hold a grudge. No matter what a dog is doing, they are always present in the moment. If you are stressed in the office and need a break or someone to talk to, a dog is a perfect companion. You may find that your dog is better behaved than most humans. Dogs are social animals who thrive off attention and affection, making them a prime candidate for a person's best friend and ideal work colleague! Since dogs have been domesticated to a point where they need us to survive, we tend to find that we need them almost as much. Over hundreds of years, humans and dogs have developed a symbiotic relationship. Here are our top 5 office dogs.
1. Could a Labrador be the perfect dog for my office?
For the very dynamic and buzzing office culture. Labradors make amazing office companions. They are beautiful, calm, intelligent and loyal creatures who love affection from humans. Just make sure you give them enough attention and take them for plenty of walks! Nothing makes them happier than being near their humans, usually around their legs. A great benefit of this breed is that they are not 'watchdogs', meaning they're not prone to barking in the presence of strangers, great for those casual workers or freelancers that turn up.
The reason this breed is the official guide dog breed is because of how friendly, non-aggressive, easy-going, and extremely focused they are. They are able to remain calm and stick to their training even when faced with distractions, such as deadline day!
For businesses that have a lot of on-site visitors, these office dogs are ideal as they prefer wagging their tails than barking at strangers, these loving dogs will happily greet and get along with everyone, even children. They're obedient, quick learners and eager to please. If your office is near a park with a lake/river, excellent. Labradors love the water and love muddy puddles!
Do Labradors moult in the office?
Labradors have short hair, however, they still moult. Grooming is very simple, a weekly brush is usually enough to keep the coat in tip-top condition.
2. Why do I love Pugs so much?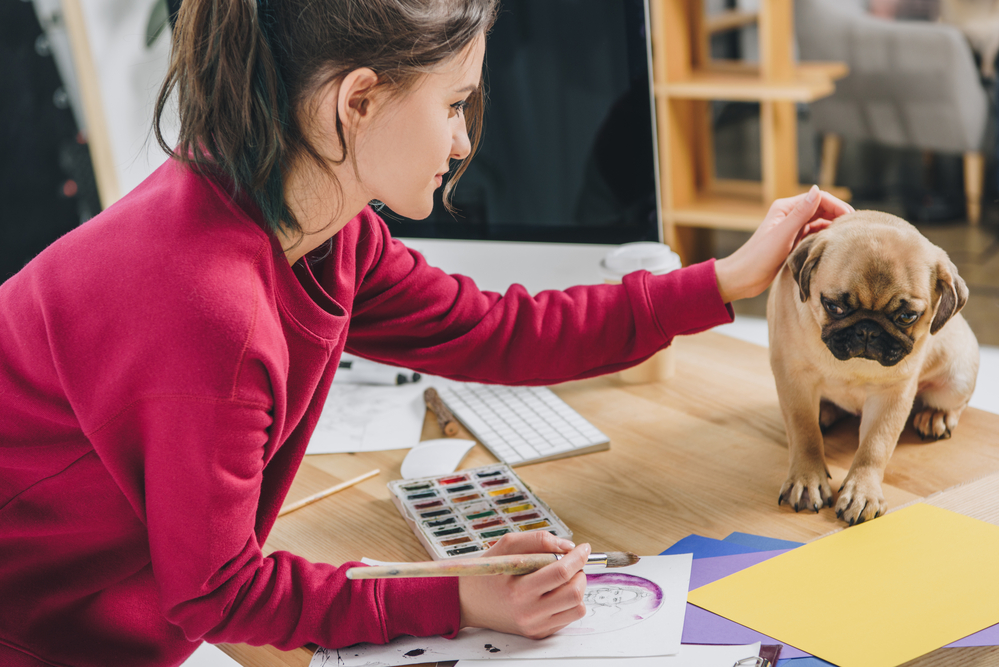 What is not to love? Pugs are loyal, friendly and affectionate with a very enthusiastic nature. These happy dogs are incredibly intelligent, making them ideal for any workspace as they can be trained with ease. Pugs are adorably sleepy creatures who love snoozing, which makes them an excellent candidate for any office, allowing you to carry on with work.
Pugs often have narrow nostrils which can lead to difficulties with breathing, which can also lead to heart problems. This breed of dog is also prone to overheating. So extra patience and love is needed. Many celebrities and royal households have kept pugs, from Queen Victoria to the pop artist Andy Warhol They are rather Hi-So.
Pugs are comical dogs that are sure to make you smile and create positive vibes in the workplace. For their small size, they have big personality. They are also less likely to knock heavy things over. Similar to cats, Pugs sleep an average of 14 hours per day.
Pugs don't need fields of running room and adapt well to small places. Around 30 minutes of exercise a day will keep your pug healthy, happy, and entertained. They love eating, so make sure they don't get too fat! Make sure colleagues and office visitors put a lid on the doggy buttons!
Do Pugs moult in the office?
Yes. All pugs moult. Black pugs have only one coat of hair so they don't moult as much as a fawn pug. Fawn Pugs have a double coat, meaning they moult twice as much. Pug's don't moult seasonally. They moult constantly! The moulting will become noticeable in the office. Grooming and bathing are two ways in which you can minimise the moult. Fortunately, pugs are small, so they can be bathed and dried a lot easier than a larger breed of dog!
3. Why should I pick an Italian Greyhound for my office?
Elegant, graceful and kind, Italian Greyhounds makes great office dogs! These miniature Greyhounds have been bred for centuries. Standing at around 15 Inches tall. This small-sized breed makes for a great low-maintenance companion. Their short coats are perfect to prevent moulting hair from covering your workspace. They love to snuggle and snooze while you work. Think of them as graceful lounge dogs. These high-stepping charmers refuse to be ignored and love to be held! They require extra care in cold weather so make sure your office is cozy enough!
Do Italian Greyhounds moult in the office?
Italian Greyhounds have a single coat. They're also the smallest sighthound on earth, so not much hair falls off.
4. Would a French Bulldog like to work from my office?
Who wouldn't want this crinkled-face pup as a colleague? These dogs are known for their large ears and adapt well to lots of different living situations, making them a popular choice as pets. These dogs are very people orientated and dislike being left alone for even the shortest period of time. With roots originating from the English bulldog, this beed is affectionate and friendly. The French Bulldog does not bark much, but they can sing! Not much exercise is needed, so they feel at home in small areas, perfect for an office. French bulldogs can't swim, so don't take them off the lead by the lake or sea. This breed of dog just goes with the flow. Flying international with a French Bulldog should be a no no, due to breathing problems. If you don't mind some snorting noises in the office, this dog is perfect.
Do French Bulldogs moult?
French Bulldogs moult their undercoat twice a year but the hair is fine and short.
5. Would an Australian Labradoodle look cute at my workplace?
This Dog is Intelligent, quick to learn, friendly and social. The perfect employee! Originally this good-natured breed was designed for therapy purposes. These dogs are eager to please and easy to train, perfect for any office.  They're a Top Dog.This playful Labradoodle is definitely a great candidate to bring to work with you. This is definitely the kind of pooch to have around when everyone in the office is feeling a little overworked and need a hug!
Do Australian Labradoodles moult?
These dogs are like teddy bears and they don't moult!
Our Top 5 Office Dogs have carefully been selected from experience and research. Should you like to write about your workplace pet, please get in contact with us, we would love to hear from you!