Similar to Italian Greyhounds, French bulldogs can become very attached to their owners. They are prone to separation anxiety, which could be one reason why they are popular workplace pet breeds. However, if well trained and cared for, adult French bulldogs can be left alone for no more than a recommended six hours ( puppies for less time).
In this article, we'll explain the symptoms of separation anxiety in French bulldogs. We will give you some tips and tricks on how to help ease your French bulldog's anxiety so that you can escape for a few hours to go grocery shopping, meet up with a friend for coffee or take a lunch break without your pup.
What Happens If My French Bulldog Suffers from Separation Anxiety?
French bulldogs are lovingly referred to as "Velcro" dogs since they tend to stick right by their owner's side. As such, they are prone to suffer separation anxiety when you leave them alone. This can result in some distressing behaviour and destructive habits.
French bulldogs exhibiting separation anxiety commonly whine, howl, or bark incessantly. They have been known to scratch at doors and windows, have accidents, and paced restlessly. In addition, they can be destructive by chewing up shoes or other small personal items and attacking the paper bin. The worst employee ever!
How Can I Train My French Bulldog to Be Left Alone?
It is possible to leave your French bulldog home alone for an extended period. But this requires training to ensure the pup, that you will return. It's not just human children who get separation anxiety, dogs do too.
Practising a routine of repeating the same actions every time you plan to leave the house. This can help reinsure your French Bulldog that it's just a temporary thing. Place on your shoes in front of your dog, grab your keys and purse, and then point, telling him/her you'll be back in a bit.
Give Your French Bulldog A Toy
One way to keep your French Bulldog busy is to give him/her a stimulating toy, or a comfort toy so they have something to cling onto in your absence. Toys keep dogs busy. This is just one way to stray the dog away from chewing on furniture, or your colleague's Michael Kors bag.
Chew toys are an effective way on preventing your dog from chewing furniture. It's also a great way to help clean your dog's teeth and gums. The act of chewing helps smooth the teeth, scrapes away at tartar and strengthens your dog's mouth. You may notice your dog's breath improving… Also a bonus at work!
When anxious, French Bulldogs tend to chew, this is how they can compensate for those feelings. If your Frenchie gets stressed try giving them a toy during those times to help keep those emotions at bay.
Do French Bulldogs Enjoy TV?
Some French Bulldogs love TV and glaze at celebrity dogs for hours. Sometimes it's a good idea to leave a TV or radio on when you leave the dog on his/her own for a while so the dog feels more comfortable. We knew a French Bulldog who could not stand any form of silence, apart from at night when it was time to sleep.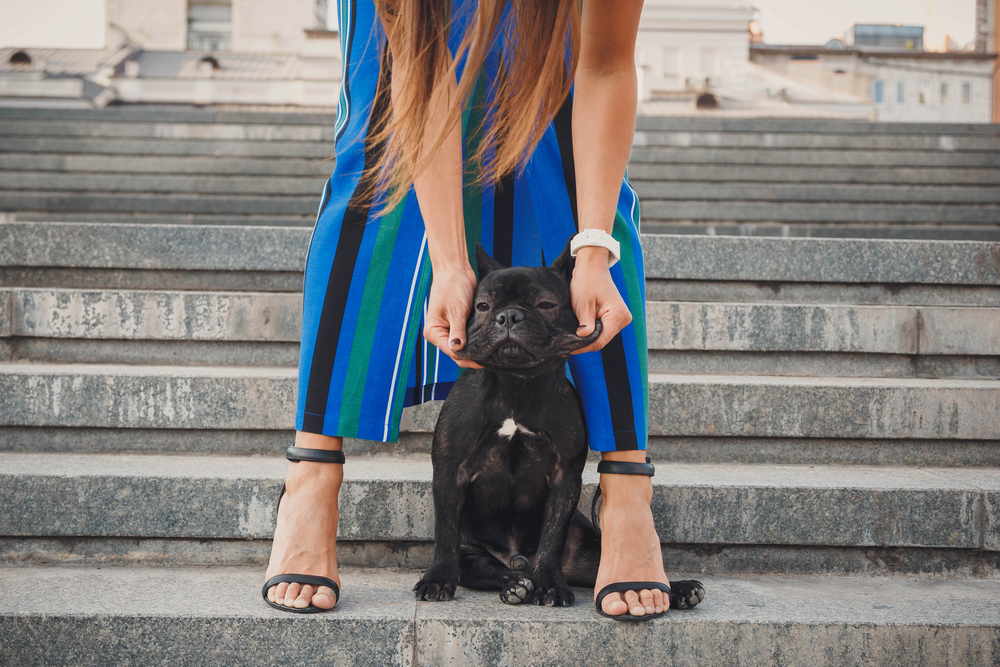 Have Two Dogs At Work
Having two dogs (as long as they get along ok) can keep each other company while you're away from your desk or home. They can give each other the emotional support, focus and attention they need to stay calm. Usually, it's best to pair the French Bulldog with a dog of a similar size.
Employ a dog sitter
If all else fails, have somebody to dog-sit for you. This gives you complete peace of mind while you run those errands. Your French bulldog will have some human interaction, even if it can't be you. Maybe you and a colleague can take turns in dog-sitting.
Your French Bulldogs Bladder Control
Before you have to leave the room for a meeting, take your dog out on a walk or run. This is so that after your meeting you don't get any surprises added to your office carpet. Also, it's a good idea to use up the French Bulldog's energy to promote nap time. If your Frenchie is a young puppy or elderly, they will likely need more frequent toilet breaks outside.
Observing your dog's behavioural patterns, you will start to learn and predict how long your French Bulldog can stay alone. Schedule routines that work for you and your best doggy friend. Try letting your dog out a few times a day and first thing when you get home.
How Can Prevent My French Bulldog From Barking In The Office?
If you notice your dog sitting by the windows or door barking as everyone passes by, this is usually caused by boredom, anxiety, or fear. The first step to take is to block access to the window. Pull the curtains and then ask the dog to do something that isn't barking, like going to their bed.
Every time your French Bulldog shows good behaviour and responds to following commands, give them a treat.
Time to Practice Leaving Frenchie Home Alone
Now that you know what to look out for when it comes to separation anxiety. See if your French bulldog is exhibiting any unusual behaviours as you grab your laptop and head to a meeting.
Notice when you come back if the contents of your paper bin have been relocated to the floor. Or if there are pee puddles.
If so, take steps to ease your pup's separation anxiety before it worsens. Buy them a stimulation or comfort toy. Set a routine for leaving the dog alone in the room, or ask a sitter to stay with your dog when you have to step out. It's time to show your French bulldog he/she can stay in the office alone if only for a few hours.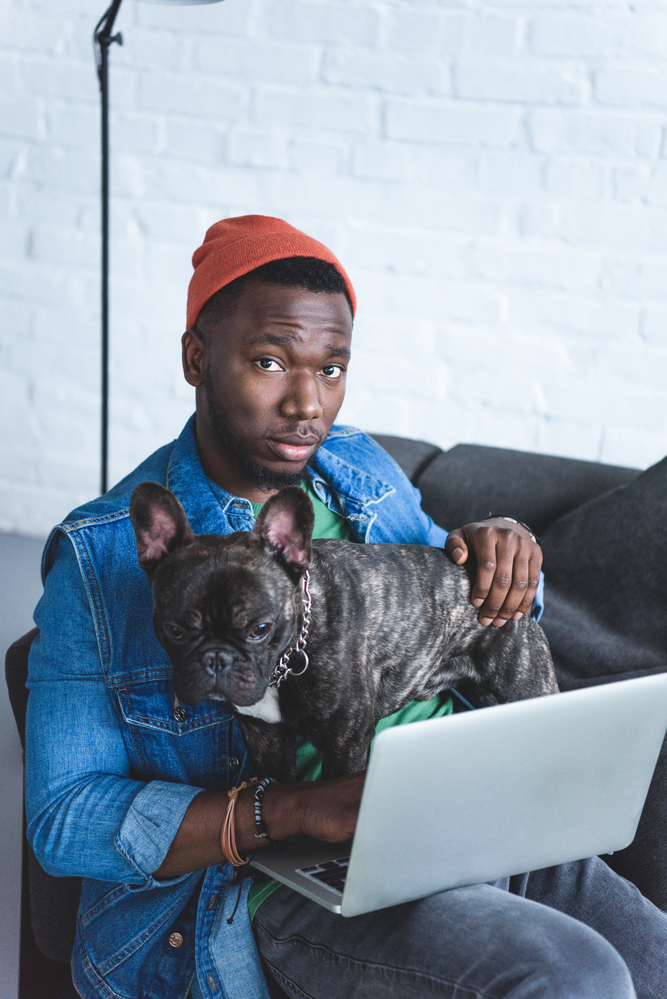 The French Bulldog is an excellent workplace pet. In fact we have listed this dog as one of our Top 5 office dogs.