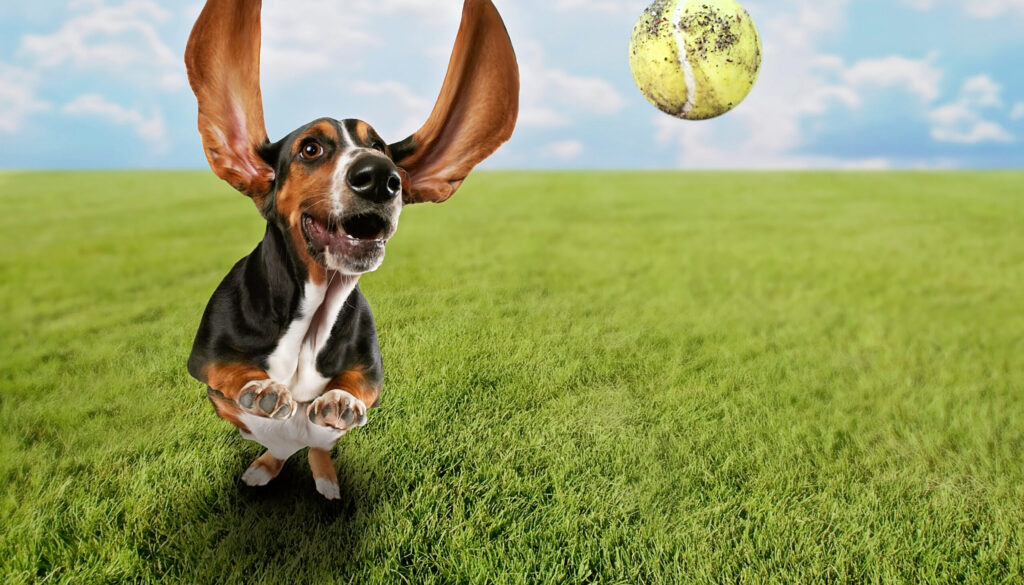 All dogs including Basset hounds, need to exercise. But figuring out how much exercise your dog needs can be difficult. Different breeds need different exercise levels, and some dogs are more susceptible to injury than others.
Finding the right balance for your Basset Hound can be tricky. So how much exercise do Basset Hounds need?
Basset Hounds need 30-60 minutes of play each day, comprising of walks, free play, and mental exercise. Puppies should be kept to the lower end of the spectrum, and senior dogs should have less playtime to avoid injury.
Getting the perfect balance for a healthy dog is a challenge that will require some catering to your individual dog's needs and adjustments based on their ideal exercise regimen.
The rest of this article will discuss how much exercise Basset Hounds need as well as suggest some useful ideas for play sessions.
How Much Exercise Is Best for Basset Hounds?
This endearing and charmingly handsome breed of hound is often mislabeled as a couch potato. Basset Hounds which are never usually aggressive, need sustainable and varied exercise each day to avoid them becoming overweight or developing other health conditions.
For Basset Hounds of all ages, 30-60 minutes is an ideal amount of playtime, but you should always be careful with puppies specifically. 8-week-old Puppies can't regulate their energy consumption and will play themselves to the point of exhaustion.
As such, you the owner are the only thing signalling for a puppy to stop playing. Puppies need no more than 30 minutes of play a day. Senior dogs, as you can imagine, are less inclined to play sessions.
Let them decide if and when they want to play and take them for more infrequent walks.
What Play Is Best for Basset Hounds?
For dogs, there's nothing better than a good old walk, and this tried-and-true exercise method is perfect for Basset Hounds. Not only do walks engage a dog's body in a physically demanding way, but walking also activates the nose. Basset hounds love to sniff!
The more active the dog's nose is, the more tired it'll be when they get back. All those glorious sights and smells are taxing (in a good way) on a dog's brain and serve to give them good exercise.
Shorter walks of 20-30 minutes daily are great for Basset Hounds. Taking them out for long walks on the weekend isn't a great idea since being out for too long can cause your dog to overheat.
Of course, if you want to exercise your dog indoors, there are plenty of good options. Scatter a few toys around and encourage your Basset Hound to play, rough and tumble with some light tug 'o war, or start a game of hide and seek.
Rotating through a variety of new and exciting toys is a great way to encourage your dog to be engaged during playtime.
Training and Puzzle Boxes
Exercise can also take the form of training. When you're teaching your dog a new trick or asking them to recall something they already know, you're making them pump out a lot of brainpower to figure out the trick they're learning.
Sniff mats, puzzle boxes, and treat-hiding games are all great ways to work your dog's brain and wear them out. Since Basset Hounds are such avid diggers, you can take advantage of this natural instinct by getting a digging toy like a dog puzzle.
These puzzles let you hide toys in the flap and let your Basset Hound dig away at it to uncover the treats.
This is a great two-fold exercise because the physical digging and the mental frustration of figuring out how to reach the treats will really wear your dog out.
With a keen nose, Basset Hounds are great at scent games, too. Hide a few treats around the house and let your Basset Hound sniff them out.
Final Thoughts
Basset Hounds benefit most from a daily 20-30 minute walk and need anywhere from 30-60 minutes of exercise a day.
Thanks to their hound instincts, finding indoor entertainment like scent games, hide and seek, or digging puzzle boxes can all work their brains, giving them much-needed mental stimulation.
With so many tools at your disposal, there are a lot of ways you can exercise your Basset Hound while simultaneously bonding with your canine companion.