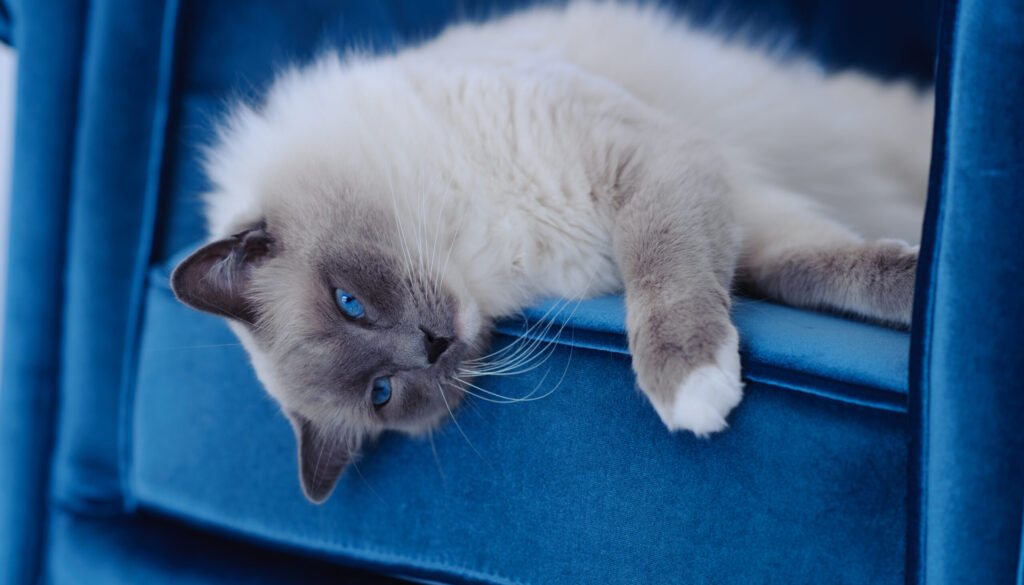 T​here's no denying that chubby cats are cute. Just like with people, though, obesity can cause health issues and a reduced life expectancy. But it's hard to get a lazy house cat such as a Ragdoll to exercise — so how can you help your cat lose weight?
T​o get your cat to lose weight, you'll need to decrease the number of calories they eat each day. You'll also need to increase their activity level to help burn off excess calories and keep their bodies functioning well.
Feeding them on a regular schedule rather than free-feeding, switching to canned cat food, and spending time playing with your cat each day are all great ways to help your feline friend lose a few pounds.
I​n the rest of this article, we'll talk more about how to help your cat lose weight. We'll also discuss some frequently asked questions about cats and weight loss.
H​ow Do I Get My Ragdoll Cat To Lose Weight?
I​n the wild, most cats do a great job of staying at a healthy weight. Because they have to hunt for their food, they get plenty of exercise and eat the healthiest meals available.
House cats, on the other hand, usually live a very laid-back lifestyle: they may have unlimited food available at all times, a small home with plenty of napping spots, and minimal reasons to exercise. All of these factors can result in a cat that's overweight.
According to the Cornell Feline Health Center, obesity in cats can increase the likelihood of a variety of serious health concerns, including arthritis, heart problems, and hip dysplasia. But helping your cat lose weight to avoid these issues takes time and dedication.
O​ne of the best ways you can get your cat to lose weight is to feed them on a regular schedule rather than keeping food out for them 24/7. Free-feeding lets your cat eat whenever they want, which is unhealthy if they aren't also exercising on a regular basis.
Instead, try feeding your cat small meals in the morning and evening. If you're switching from free-feeding, it may take your cat a few days to learn the new schedule, but they'll catch on eventually.
I​f your Ragdoll is especially picky, another way to help them lose weight is to feed them canned cat food. While this may seem like a strange suggestion, it works. Canned cat food has more protein and fewer carbohydrates than dry cat food, making it a great choice for a cat on a diet. It's also packed with water, which can help picky cats increase their water intake.
O​f course, you should also try to increase your cat's activity level to help them lose weight. If your cat burns more calories than they consume, they'll lose weight.
Even though you can't take your cat for a walk outdoors like you could a dog, there are still ways to help them keep moving. Playing with toys (like toy mice, pieces of string, feathers, etc.) is a great way to encourage your cat to get more exercise while also providing them with mental stimulation.
Frequently Asked Questions
Do Ragdoll cats eat cheese?
Y​es, most cats will eat cheese. It's filled with yummy flavor, fat, and salt, making it a favorite treat for humans and felines alike.
However, cats should only eat cheese in small quantities. Unlike most people, who consume lactose on a regular basis, cats don't eat lactose after they are weaned from their mothers. Suddenly eating a large amount of cheese can upset their stomach.
Cheese is also unhealthy in large quantities because of the calorie and salt content. Don't be afraid to offer it to your cat now and then, but especially if they're on a diet, limit your cat's cheese consumption to once every month or so.
Should Ragdoll cats eat grain-free?
While there has been much buzz surrounding grain-free diets for pets in the last decade or so, trustworthy research isn't often quoted. A study in the Journal of Feline Medicine and Surgery helps to debunk some common myths about feeding cats grain-free diets:
Supporters of grain-free diets claim that grain-free foods contain fewer carbohydrates than traditional cat food. While some grain-free diets do have fewer carbohydrates, some have equal or even greater amounts than cat foods including grain.
Calorie amounts are similar in both traditional and grain-free foods, meaning overweight cats won't necessarily benefit from eating a grain-free diet.
While grain-free diets can help with food allergies, the number of cats who struggle with food allergies is fairlysmall.
S​o should you feed your cat a grain-free diet if they're overweight? Chances are, your regular cat food will be just as effective at helping them lose weight (and will probably be cheaper, too).
O​f course, before you make any changes to your cat's diet, it's important to talk to your veterinarian. They will be able to offer the best advice for your specific cat's situation.
What if my Ragdoll cat eats a calla lily?
A​ll lilies are toxic to cats. However, if your cat eats a calla lily, it's one of the least toxic varieties of lily, so your cat will most likely be okay.
Calla lilies contain what are called insoluble calcium oxalates. These are irritants that can cause a variety of symptoms, including:
Vomiting
Burning or itching mouth
Trouble swallowing
Drooling
Mouth ulcers
I​f your cat has eaten even a small amount of a calla lily, it's important to call your veterinarian right away. You can also call the Animal Poison Control Center at (888) 426-4435. They can advise you on the best steps to take to keep your cat safe.
I​n the case that your cat needs to go to the vet, they'll take several steps to make sure the calla lily poisoning is treated correctly.
First, they'll do a physical exam to make sure your cat has been poisoned by a calla lily. Of course, if you watched your cat eat the plant, your vet will have a good idea of the cause of your cat's discomfort, but they'll still need to check in their mouth to determine the severity of the poisoning.
B​ringing a piece of whatever your cat ingested can help your vet confirm if your cat is suffering from calla lily poisoning. Knowing how much of the plant your cat ate can also be extremely helpful.
Treatment of calla lily poisoning depends on how severe it is. Your vet may give your cat anti-inflammatory medication to help reduce swelling in their mouth and throat. They may also give them pain medications to help with any lingering effects from the toxins.
Will Ragdoll cats eat frogs?
Because cats are carnivorous and predatory animals, they'll regularly hunt for small animals if they are allowed outside. This means that if they find frogs hopping around your property, they will more than likely eat one.
While it's true that some frogs and toads are poisonous, your cat is unlikely to eat enough to actually cause any damage. Poisonous frogs secrete a bitter foam that cats don't like. Once your cat puts the frog in their mouth, they'll likely regret their menu choice and will keep from eating frogs in the future.
O​n the other hand, there are two species of frogs in the United States that can cause your cat great distress. These are the cane toad and the Colorado River toad. If your cat eats one of these poisonous frogs, they may experience symptoms such as:
Changes in heart rhythm
Respiratory issues
Diarrhea
Neurological issues
Vomiting
Similar to how calla lily poisoning is treated in cats, toad poisoning treatment typically involves a physical exam, anti-inflammatory medications, and painkillers. For a more serious infliction, an overnight stay and IV fluids may be required to help your cat get back to feeling normal.
When do Ragdoll cat allergies start?
H​ave you ever walked into a room with cats only to suddenly experience a runny nose, itching eyes, or difficulty breathing? Cat allergies are one of the most common allergies experienced among children and adults. But how soon after being exposed to a cat do the allergies start?
C​at allergies can start as soon as five to ten minutes after exposure to cats. It takes 30 minutes to a few hours to develop the most serious symptoms, so even severe allergy sufferers won't experience extreme distress immediately after encountering a cat.
H​ere are some symptoms you might experience if you're allergic to cats:
Hives
Runny nose
Watering or itchy eyes
Sneezing or wheezing
Difficulty breathing
R​ash
Some people are raised around cats and seem to suddenly come down with a cat allergy as an adolescent or adult. While this seems strange, it's actually quite common.
T​he same is true for people who have struggled with cat allergies throughout their childhood: they may wake up one day and no longer get hives or itchy eyes after being around cats. However, not all cat allergy sufferers are so lucky.
Doctors aren't sure what makes some people outgrow their cat allergies. One theory is that the body develops an immunity to the allergen after being exposed to it repeatedly for a long period of time.
I​f you're a cat lover who struggles with cat allergies, you may be wondering how to manage your allergies so that you can be around cats or even have one of your own. Luckily, there are steps you can take to manage your cat allergies (to some extent, anyways).
O​ne of the best things you can do to manage your cat allergy is to clean thoroughly and constantly. What you're actually allergic to is dander that is present on cat hair. The fewer cat hairs are in your home, the less you'll struggle with your allergies.
Vacuum, sweep, and steam-clean floors and carpets on a regular basis. You should sweep your floors every day and vacuum or mop at least once a week. Be sure to take out the trash or dispose of dirty mop water when you're done to make sure the dander is permanently gone from your home.
Replacing your air filter with a high-efficiency particulate air (HEPA) filter can also help immensely. These high-quality air filters will capture dirt and dander before it can settle on your furniture, reducing the number of allergens in your environment. Check with the filter manufacturer to see how regularly the filter needs to be changed.
Believe it or not, keeping your cat's litter box clean can also help with your allergies. Cat urine contains the same irritating proteins that cause your symptoms as your cat's fur and saliva.
You should also brush your cat regularly, although severe allergy sufferers may struggle with this task. Consider having a friend or family member spend a few minutes each day brushing your cat and then disposing of the hair. Alternatively, you can have your cat groomed professionally, though not all cats are fans of traveling to the groomer's.
You can also help manage your cat allergies by carefully choosing the type of cat you bring into your home. Unlike dogs, there are no hypo-allergenic cat breeds, but picking a short-haired cat, rather than a long-haired one, can reduce both the cleaning you need to do and the symptoms you'll experience from spending time with your cat.
Many people also take an antihistamine on a daily basis to help combat their feline allergies. These medications block cat dander from interfering with your immune system, helping to reduce or eliminate symptoms like a runny nose and watery eyes. 
Final thoughts on keeping Ragdoll Cats healthy and slim
T​o help your cat live a long and healthy life, you'll need to be very intentional about keeping them at a healthy weight. It's okay if your cat gains some weight for a short time, but you should work to remedy the situation as soon as you can. Provide plenty of exercise opportunities and be sure to feed your cat an appropriate amount of food to help them lose some extra pounds.