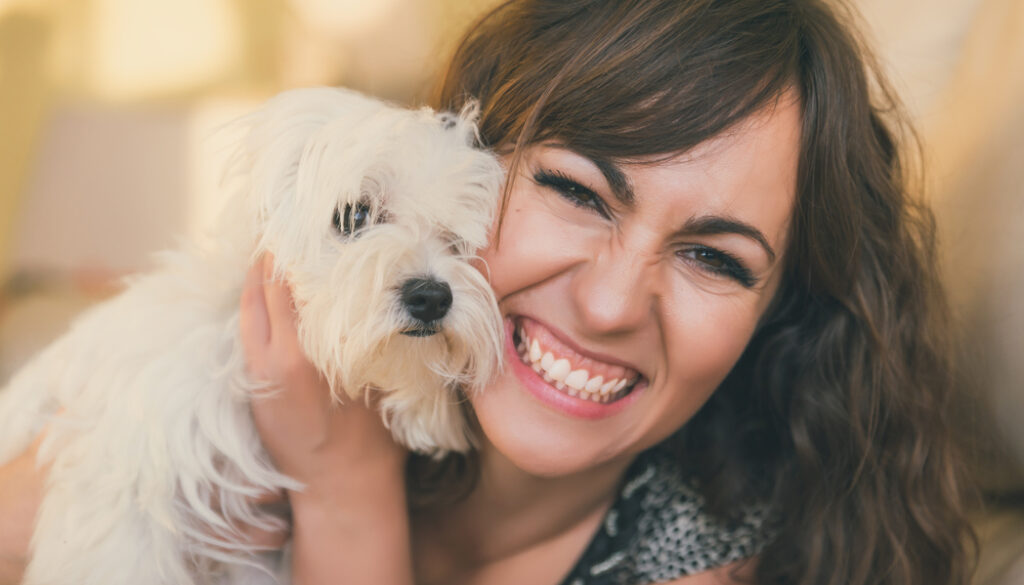 Many people get a Scottie dog so they can have a cuddle to relieve stress, feel a connection and keep warm.
Scotties in particular are excellent dogs to cuddle up to for emotional reasons as well as when temperatures drop into the minuses or the air conditioning unit is a bit too chilly. Dogs in general, have a higher body temperature than us which make them great for this time of year.
But is this cuddling feeling you have, replicated to your Scottie friend… Do Scotties like to cuddle up as well?
We believe that Scotties love to cuddle, just as much as we do. Older Scotties like to cuddle the most, but even puppies will spend time cuddling with their owners. This allows them to feel a connection, and get the attention that they crave so much.
But, don't just take our word for it. Here are our reasons why we believe that Scotties like to cuddle.
Do Scotties Like to Cuddle?
Scotties are known to yap away at people passing by. Because of this, some people may perceive them as not the cuddling sort and a dog that bites. But, unless you own a Scottie, you will never truly know how cuddly they are.

The Scottish terrier loves to spend time cuddling with their owners, even more than barking. You will find that spending quality time cuddling with them can be an emotionally good thing for you both.
Scotties like to cuddle throughout their lives. However, many Scotties tend to relax and get more affectionate when they grow older. This may be due to experience, or just the fact that they don't store up the same amount of energy that they once had as a younger pup.
Usually, as time progresses, Scotties become less distracted with what is going on around them and outside, and will want to cuddle up and relax with you more. If your reasoning to own a dog is just for a cuddle, have you considered rehoming an older dog.
Do Scottish Terriers Bond With Their Owners?
Every Scottie has a different personality, however, most will cling tightly to their owners, but not because they are timid and scared like some other breeds. For such a small size, Scotties have big personalities, they are bold, inquisitive, and strong natured dogs. They hang out with their owners because they like the love and the attention, not because they need it for protection. Most of the time, I feel that Scotties feel like humans need protection more than they do.
Scotties are so devoted and that they usually developed a stronger liking for just one person in the family. Usually, the person who feeds and spends the most time with the Scottish Terrier is favourited.
Why Do Scotties Like to Cuddle?
Scotties may seem like they can never get enough love and affection from you. Cuddling is one way that you can give your Scottie the affection that they desire.
By sitting with them and cuddling, or even brushing their hair at the same time as you are on the phone or working, you are showing them that you care. The more affectionate you are with your Scottie, the stronger bond you will both have. Especially at the end of your fun, busy and stressful day.
How Can I Bond with My Scotties?
If your Scottie does not seem like they want to spend a lot of time cuddling with you, it could be because you have not created that close bond with them yet. As with all relationships building trust is very important. You can build trust in your Scottie in a number of ways such as;
Training Classes
You will get to spend some time with your Scottie while they make friends with other dogs. You can get advice and training on how to train your dog so they are good around the home/workplace and outside in different situations.
Exercise
Exercise is virtual in dog ownership. Scotties should be walked outside at least twice a day, morning and evening. Dogs love walks and it's a happy time for them and you as well. No one, including dogs… Are meant to be trapped inside the home or office all day. Have some fun in different scenery, away from the house or workplace.
Brushing and Bathing your Scottie
Giving your Scottie a brush at least once a week and a bath every 2–4 weeks will make them feel softer to touch as well as smelling fresh. Scotties love being pampered and brushed behind the ears. Positive Interactions between Scotties and humans make them want to be closer to you. To make Brushing and Bathing fun, use positive reinforcement.
Do Scotty puppies Like to Cuddle?
Your younger Scottie will like to cuddle and spend time with you as well. However, they may get distracted easily and randomly dart off somewhere barking. Your puppy will have lots of energy.
You should expect that a Scottie puppy will not want to spend all day cuddling, they feel young and free. They would rather spend it running around and playing games, as all your puppies do.
Having fun with young Scotties will pay off in the long run. All these interactions are important to create a life-long connection and bond.
Do Older Scotties Like to Cuddle?
Yes, your older Scottie will love getting to spend time with you and cuddling as much as possible. In fact, the older Scotties are more likely to want to spend time cuddling with you compared to younger ones. Older Scotties tend to have a little bit less energy compared to most puppies.
Puppies find any excuse to run around and cause trouble, so cuddling may not always be on their agenda.
Older Scotties can wear out faster and will find fewer things to distract them through the day. Due to that, many older Scotties are happy to sit around with their owners and cuddle while practising mindfulness.
These older Scotties still need to move around and get that energy out as much as possible. However, they will take some time to cuddle and enjoy time with their owners more than a Scottie puppy will.
Spending Time with Your Scottie
In the end, your Scottie just wants to spend more time with you. They like the attention and want to be as close to their favourite human as possible.
Cuddling creates a stronger bond between you and them. Keep cuddling!