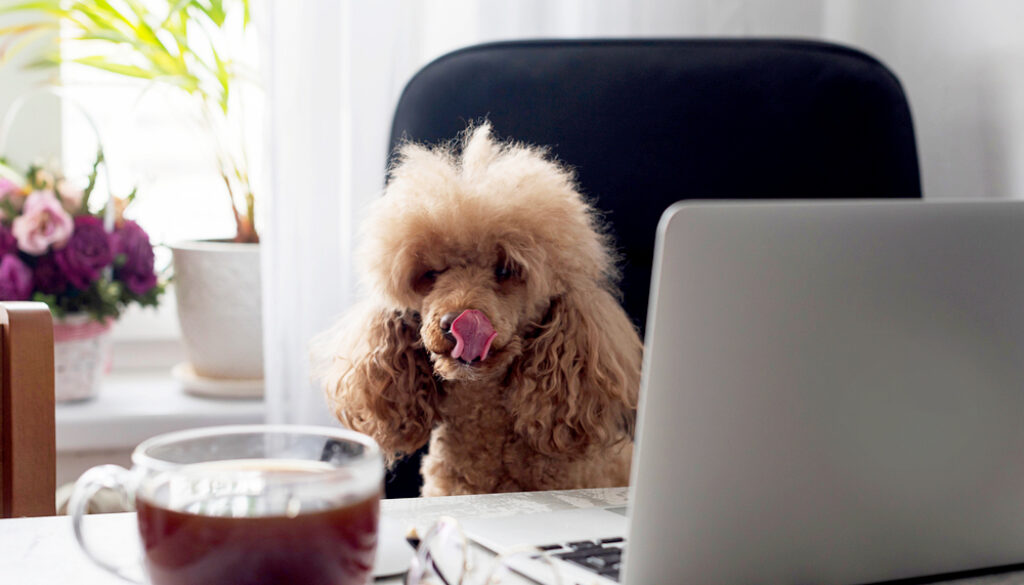 Do you have a "bring your pet to work day?"
Whether that's a yes to that question, you might be wanting to get a dog to impress your coworkers and add value to your office.
But the truth is, your dog might be a reflection of you, your parenting styles and how you are as a person.
Therefore you don't want a dog to show up and embarrass you.
So what breed to get?
Well, one question that we constantly get asked surrounds the Poodle being an office pet.
To help answer many readers' questions, let's look at the Poodles' appearance and characteristics.
What does the Poodle look like?
Poodles come in three different types: the Standard, Miniature, and Toy Poodle. Their coats can come in various colours from apricot, white, black, grey, red, brown, blue, silver, sable, red and more. They were originally bred to be waterfowl dogs that meant they regularly hunted.
Therefore because of this, they have a curly coat to make them more streamlined in the water. A great thing about the Poodle coat is that it's a single coat and is also hypoallergenic. That means the Poodle sheds very little, and it's less likely you will have hairs lingering around your office on the chair, keyboard or anywhere else.
Plus, it also means that if you have coworkers who have allergies, it's less likely this dog could trigger theirs. Similarly, that means fewer incidents for the work accident logbook! Moreover, if you're the boss, this also means your employees can spend more time on the job and concentrate on their work.
Poodle traits
Poodles are renowned for their highly intelligent nature; they're often seen as the second smartest dog breed that exists. So when you're asking if the Poodles are the smartest breed for the office? That's technically a yes; they're one of the most intelligent breeds out there.
In addition to their intelligent nature, they are also desperate to please people alongside their owners. This means Poodles can be a great distraction in the office for other employees or coworkers when they need a break.
4 Other reasons why Poodles are the smartest breed in the office
Poodles are fantastic dogs to own and equally great for the office due to:
1. Poodles are not aggressive
There is no aggressive bone in a Poodles body. This means if you have any visitors, clients, or anyone else come into the office, they will not scare them away. Similarly, Poodles don't bite, and it's doubtful your coworker or employee could get injured.
2. They're easy to train
One of the biggest worries about bringing a dog to the office is their behaviour. You might be hesitant to think if they're going to poo or pee in the place and cause you many problems.
Well, the great thing about the Poodle is that they have a highly intelligent nature, and because of this, they can learn responses and key training like house training from an early age. This means they're more likely to be disciplined and less likely to make any mess in the office. Dog clickers work excellently when training poodles.
3. They love to play
While you can give a Poodle a toy, they love to be mentally and physically stimulated. This is great if you work in a large office as there will always be someone who can give your Poodle attention! Alongside this, it will help provide interesting conversations and stop any mundane moments from occurring at work.
4. Poodles take a lot of naps as they get older
When Poodles become older, they will need to take frequent naps to replenish their energy levels. Therefore, if you wish to adopt a Poodle who's older, it might be good to have a grownup Poodle in the office.
Why you should be careful picking a Poodle
While Poodles generally tend not to be aggressive and badly behaved animals, there are some reasons why you might need to be cautious about bringing them to work, which are:
1. They can be hyperactive
You can never fully guarantee what type of Poodle you're going to get. Some have a calm temperament, but some are incredibly hyper. When they're incredibly excited, they could be jumping onto coworkers and clients. The last thing you will want to do is scare people away, especially if people are scared of dogs.
2. Poodles can be extremely clingy
Poodles love to give people attention and affection, but sometimes it can be a bit too much. This can become a bit annoying if a Poodle latches onto someone and they need to get work done. Poodles could kill productivity levels!
Plus, if people need to get on work, it could become irritating and frustrating. Finally, if they're not getting the attention, they could be walking around looking for attention, causing trouble. When dogs don't get attention, they can engage in boredom, barking or chew on items causing damage to office furniture.
3. They might nip
Poodles are not known to bite, but they're renowned for nipping, and it can become difficult. The last thing you will want is to feel a pinch on your leg when working. It could cause quite a surprise and disturbance when working.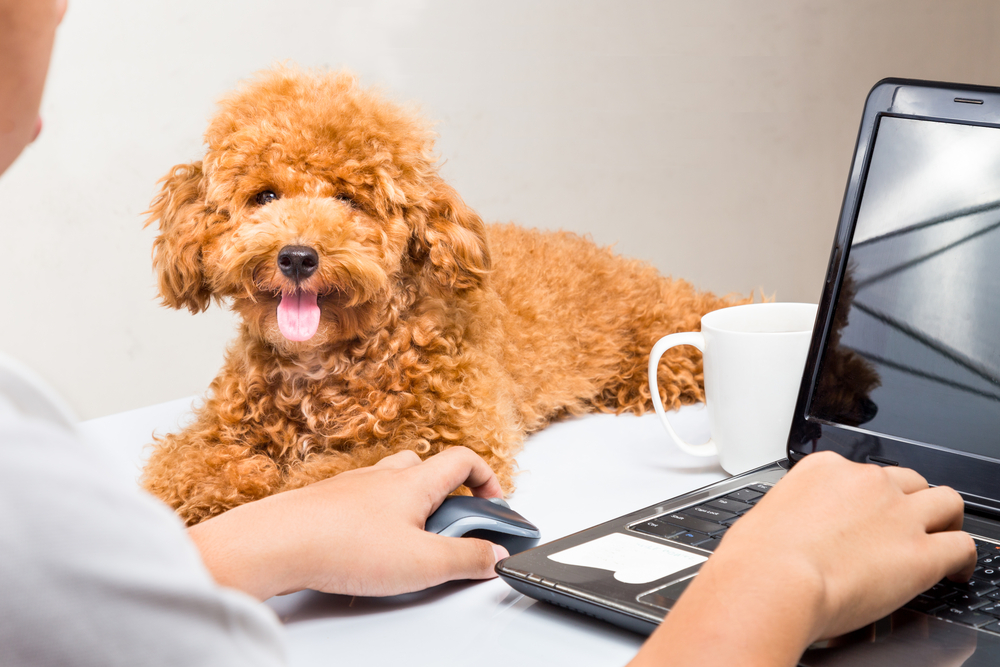 Final Thoughts
Poodles can be fantastic pets to have in your office. They're highly intelligent and easy to train, which means it's less likely they could cause any mess in your workplace.
Further to this, they're a hypoallergenic breed which means they won't shed much in the office or trigger many allergies. They are not aggressive dogs and don't bite. Do note that they can become easily excited and nip onto colleagues' legs or arms.
Plus, Poodles can have a range of different personalities, which mean you could get some that are hyperactive or incredibly clingy. If you bring a Poodle into the office with this type of personality, it could kill a lot of workplace productivity.
Therefore, if you have a Poodle or thinking about bringing yours into the office, try and make a mini office at home first and see how your Poodle responds. Similarly, you can bring your Poodle in for a trial period to see how the poodle manages in your workplace and observe how your coworkers react.
Here are our Our Top 5 Office Dogs.