Have you ever admired the beauty of a golden retriever?
You know their medium length height, golden and ginger fur, wagging tail and of course, their personality. Who can forget their character? Golden Retrievers have a friendly and fun-loving nature.
They're one of the most friendly dog breeds out there, and you will rarely find an aggressive one!
This makes them the perfect animal to own and have around family members but also colleagues too!
Yes, the Golden Retriever is a fantastic pet to cheer up people's moods in the office; they're bound to help increase staff morale and make life at work that extra bit better.
But, one thing you should be cautious of is their pink nose.
What is a pink nose?
It is exactly what it is; your Golden Retrievers nose is pink. Typically Golden Retrievers' noses are black but can turn pink, like some other breeds. Sometimes their pink nose does not return to the black colour and stays pink!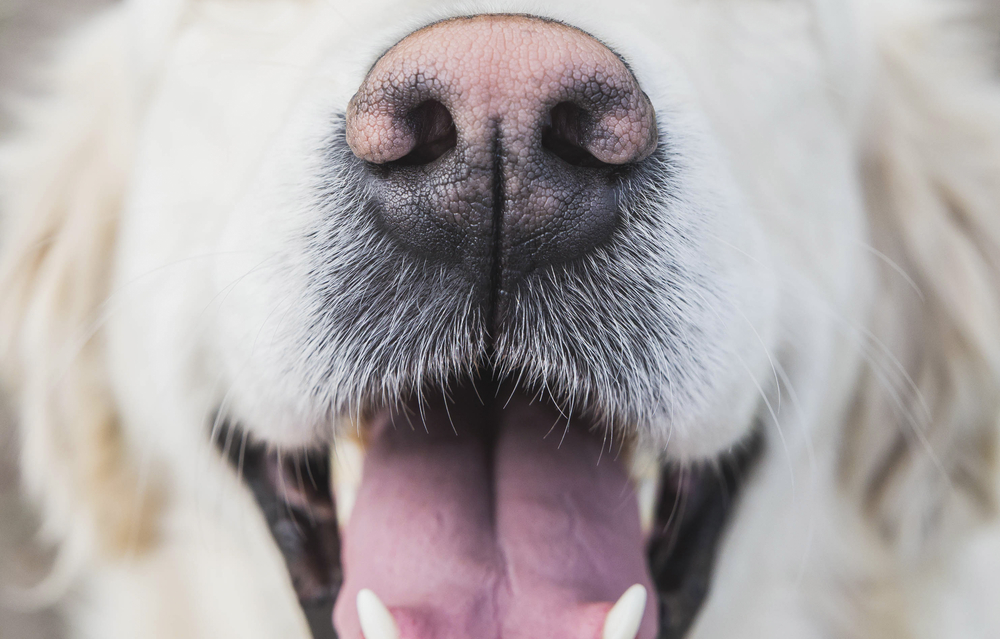 This condition has a name, and it's known as snow nose. Snow nose is also popular in other breeds like Siberian Huskies and Labradors. What happens is their nose turns pink or brown during winter months when they don't get enough exposure to the sun or heat.
Sometimes, their nose returns to their normal dark colour later in the year during the summer months. This does not just happen for Golden Retrievers living in cold climates; it's also common for this to occur in Goldens for hot temperatures too!
How serious is snow nose?
If you see your Golden Retrievers nose turn to pink or notice once it's changed, don't worry; it's just temporary. The change of their pigmentation is often a short term cosmetic issue.
However, you should take it to the vet if you notice any additional changes to its nose, such as crustiness, infection, a bad odour or anything else.
Snow nose is not something that needs medication to be treated as it's cosmetic. However, you should be cautious of the sun. Like us humans, when your Goldens nose turns pink, it can be just as at risk of getting sunburnt.
Therefore if you're someone who wants to take your Golden Retriever out of the office on your lunch break or your office is working outdoors, then it's a good idea to add a dog friendly suncream to their nose.
However, don't jump to conclusions thinking it's snow nose if your Golden Retrievers nose turns pink in the office. There could be other reasons why this happens but are less common.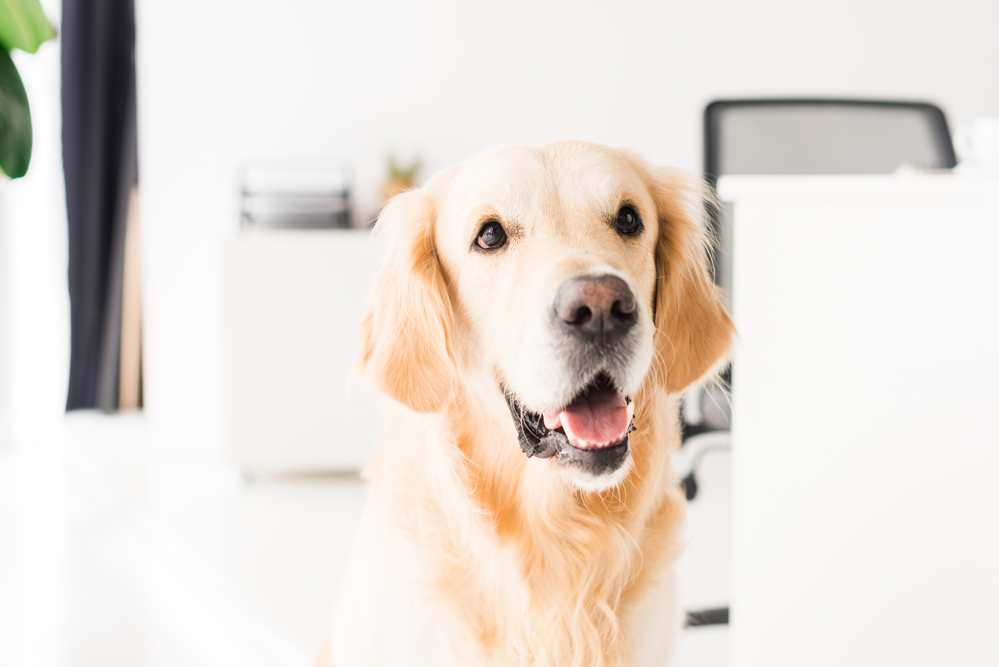 5 other reasons Golden Retrievers noses turn pink in workplace
1.   They could be getting older
How long have you had your Golden Retriever for? Similarly, how long have they been an office pet? One reason behind the change in nose colour could be that they're getting older, and you've just not slowly realised the gradual colour change. In some Golden Retrievers, the change in nose colour is often due to ageing.
2. They're experiencing an enzyme breakdown
How cold is your office? If your office environment is quite cold and one that does not have the heating put on regularly, your Golden Retriever might be feeling very cold, even under their thick double coat! When Golden Retrievers experience cold, their body tends to break down an enzyme known as tyrosinase.
Tyrosinase directly affects the amount of melanin your dog's body produces, and melanin influences the colour of a Golden's nose. When it gets too cold, and the environment is not ideal for your dog, your Golden's nose could turn pink. If you find this, maybe ask your boss not to be so harsh on the heating bills.
3. It could be a sign of an allergic reaction
Just like us humans, Golden Retrievers are also prone to having allergic reactions. This is commonly known as contact dermatitis. Contact dermatitis is a form of allergic response that occurs around a Goldens skin in the areas it does not have any hair and has no protection from irritation.
Maybe your Golden Retriever has a water bowl or toy it's allergic to in the office? Perhaps there's been new cleaning solutions or furniture added to the office? It could be due to a change of environment.
If your Golden has an allergic reaction, look for other signs too, like crustiness, hot nose and infection surrounding it. You might need to take them to a vet in case the reaction becomes serious.
4. Vitiligo
It's also important to consider that there may not be any correlation between your Golden Retrievers pink nose and your workplace. It could be a lot more severe than that; they could have Vitiligo.
This is an autoimmune disease where their immune system fights pigmentation cells by accident. It can cause their nose to turn pink and white pigmentation to develop on it. Vitiligo is something that needs addressing by a veterinarian sooner rather than later.
5. They're ill
Finally, the last option you cannot rule out is your Golden Retriever being unwell. Sometimes dogs nose turns a lighter shade or different colour completely when they're unwell.
An example is when your dog has been scratched, and their nose turns a different colour as part of the healing process. Yet when your Goldens nose has fully healed, it will likely return to its standard colour.
Final thoughts
The reason your Golden Retrievers nose turns pink in the workplace or even at home, could be due to a multitude of reasons. First of all, it could be the common snow nose many large dogs experience when the weather gets cold. Second, it could be due to them getting older or experiencing an allergy.
Finally, it could be because they have an underlying illness. If you notice their nose turning pink, you should make sure the workplace is well insulated.
If it still remains pink, even if you turn on the heating, you should consult the advice of a veterinarian. It's always helpful to seek the advice of a professional; prevention is better than cure.!