You're looking for one that's high in demand. It may not be too friendly on your bank balance. Here are the 10 most expensive dog breeds in the UK.
Ironically, the price of dogs has increased tremendously in the UK since the COVID-19 pandemic. According to Benchmark Kennels, since lockdown, the prices of puppies have increased by over £1,249, which has often been over double their original price!
We bet that's caused many awkward moments in some households where husbands and wives have brought up the topic of choosing a dog over a house renovation.
Nevertheless, if you wish to splash your cash to have a four-legged friend poop, pee and chew on your furniture on your property, then read on for a list of the UK's highly sought after breeds that are the most expensive to buy.
1.    Chow Chow – £3,700
The most expensive breed in the UK is the Chow Chow which originates from Northern China. Part of the reason they're expensive is that they're a rare breed to own, and there are a lot of strict regulations surrounding this dog being bred.
They're a highly adaptable breed that can live in a mansion, apartment and house with a back garden. This medium-sized dog looks like a lion with its striking mane of hair and looks like a fluffy teddy bear. Just don't be deceived by its appearance. This breed of dog has an independent nature and loves a good catfight. What we mean by this is it's not necessarily an aggressive breed. But one that's highly independent, stubborn, and will prefer to do their own thing, instead of joining you in the weekly meeting. 🦁
2.    Golden Retriever – £3,360
Are you in a household that has a Scottish and English divide? A Golden Retriever can serve as the perfect peacekeeper. This breed originated from Scotland and became popular throughout England.
Today it's one of the world's most popular dogs and is full of love. Its friendly and playful nature makes it an easy breed to get along with many children and seniors in your home. If you're someone who spends a lot of time at the workplace in solitary, then this breed won't do well left on its own for long periods of time. It can quickly develop separation anxiety.
A Golden Retriever requires a lot of exercises, It would love nothing more than to be living in a home with a garden. Similarly, this breed has a double coat which is prone to a lot of shedding, so if you're looking for a workplace pet, it may take some persuasion to convince your boss!
3.    English Bulldog – £3,300
If you choose to own an English Bulldog, you're going to have age on your side, and you might think twice about pulling the anti-wrinkle cream out of the bathroom cabinet! Other than its distinctive wrinkles, this breed is medium-sized, has a pushed-in nose and known for its muscular structure.
Most of the time, they have a gentle disposition allowing them to get on well with children. On the contrary, they can be quite hostile with other animals and are often a fantastic guard dog for your home. Unlike other dog breeds, the English Bulldog has dropped down to third place after spending a year in the top spot, as the UK's most expensive dog in 2020.
4.    Cavapoo – £3,030
A Cavapoo is a crossbreed of a Poodle and a King Charles Cavalier. They're a petite dog, making their size excellent for those who live in flats, apartments, studios and any other home environment. Similar to a Poodle, a Cavipoo has soft, smooth curls, and its coat colours can come in cream, fawn, chestnut, gold and be tri-coloured. They're also loyal dogs and often known as velcro dogs and can easily attach themselves to their owners.
5.    Goldendoodle – £2,976
Forget designer handbags; the Goldendoodle is a designer dog bound to capture the attention of your co-workers. This breed is a cross between the Golden Retriever and Poodle. It is known for its variety of long-haired coat styles from flat, curly, straight or wavy. Likewise, it's large and tends to have a moderate energy level. It's friendly and highly intelligent, making them a breed that's easy to train. The perfect apprentice!
6.    Miniature Schnauzer – £2,930
If you live in a flat or looking to bring a pet into an office, then the Miniature Schnauzer is a great size as It can grow between 30-60cm/11-23inches.
What makes them more expensive is that this dog breed is bred specifically to be a companion, making them more expensive as often puppies go through rigorous breeding practices. The Miniature Schnauzer is an obedient dog and has a very friendly nature allowing them to bond well with others in your workplace.
7.    Cavalier King Charles Spaniel – £2,784
Add a royal element to your home with the King Charles Spaniel II. This breed of dog may have an aristocratic nature however the Cavalier King Charles Spaniel will never act above you. This small brown and white coloured breed is gentle, playful and loves attention.
8.    Standard Poodle – £2,770
The Standard Poodle is a highly sought-after breed and has increased in price since 2020 and was previously priced at £990. This breed can grow up to 15 inches, a pretty standard size, we'd say! The Standard Poodle is one of the most intelligent breeds out there and is easy to train. They're not aggressive and are always alert, with their easy-to-please nature.
9. Cockapoo – £2,740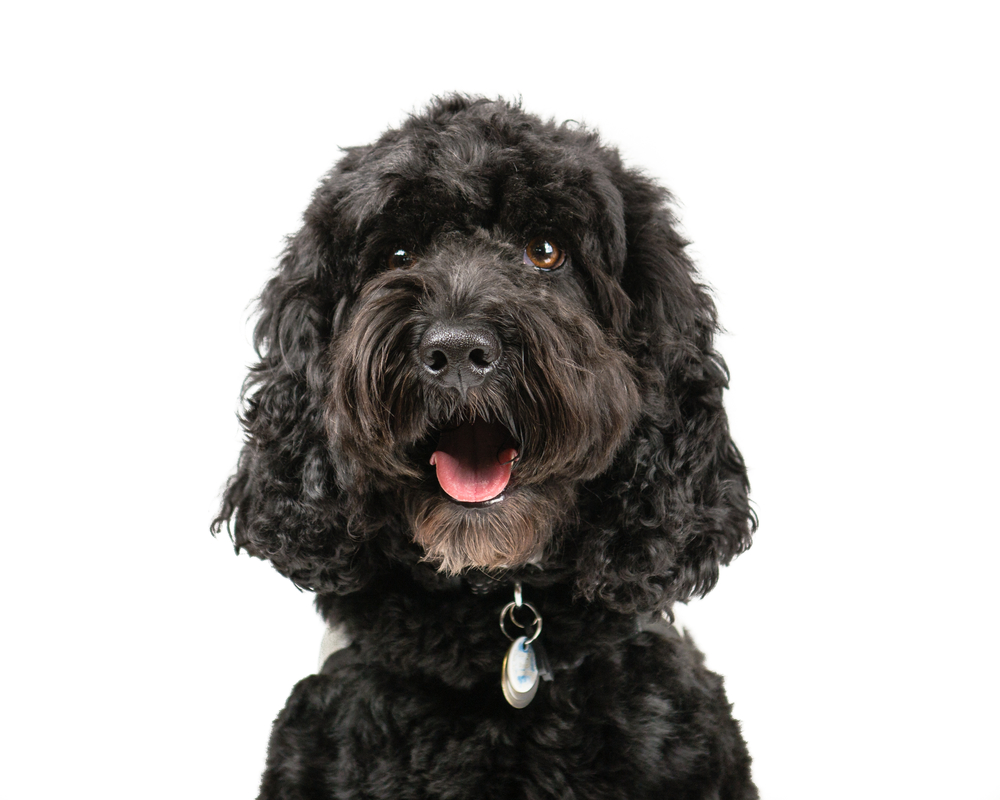 The Cockapoo is a crossbreed between the Cocker Spaniel and the Poodle. It's a small to medium-sized breed and can grow up to 11-14 inches high. This dog is renowned for being happy and outgoing. If you want a charming breed to flaunt around in the parks on your walks, then the Cockapoo is for you. It's a low shedding breed as well which is great for any office.
10. Labradoodle – £2,700
A Labradoodle is one of the most sought-after Doodle dogs. It's a cross of the Labrador and poodle and can come in three sizes: standard, medium, and average. It's a highly sociable dog and gets on well with children and other animals. They don't have an aggressive nature and not the best watchdogs.
Should these expensive dog breeds in the UK be outside of your budget, here are some alternative dogs for the workplace.